Name: Eimer Boyle.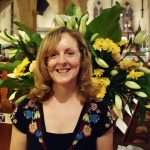 Born: Newry, Northern Ireland. I moved to Australia almost 15 years ago.
Lives: I am currently living in Queens Park, near Bondi Junction, Sydney
Snapshot of daily life: I travel to Macquarie Park every day working for a company where I spend my days developing people's skills and capabilities.  At weekends you will find me most often in the ocean or walking in the local parks!
Part of Canice's since: I have been part of life at St Canice's since 1998. When I first came to Sydney I lived in Potts Point and St Canice's was my local.  I didn't know many people back then and St Canice's was a warm and welcoming place for a new arrival to drop into!
Where will we find you in the parish? These days at St Canice's you will find me in the choir huddled around the piano on a Saturday evening!  Fondly we call ourselves The Sliders!  We may never make it as a first class choir but for us it is the joy of singing together that makes for a very enjoyable way to be of service to this community.  We have some great teachers and cantors that we get to sing with and learn from.  We are always delighted to have people come and join us in the singing!
What keeps you coming to St Canice's? For me St Canice's has become my community and its people are family.  I enjoy meeting the eclectic group of people from all walks of life with fascinating tales to tell and no judgment about who you are and what you do!  A welcome hand and smile every week reminds me what matters in life!  There is something too about the Jesuits response to social justice and the Ignatius way of life that also appeals to me.