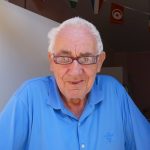 Born: County Cork, came to Australia in '68. Now have three grown children – two are in Queensland.
Lives: Alexandria
Snapshot of daily life: Recommends the Camelia Grove Pub in Alexandria. Would
like to be able to spend more time there.
Part of Canices since: 1995. That's 17 years. Retirement was a little too quiet, so I started out in the Parish doing building repairs 2 hours/day, for 2-3 days a week. Now I look after the kitchen which means 20 hours a day 7 days/week!
Where will we find you in the Parish?: In the kitchen setting up from 5am. I have a coffee and there's always someone around outside wanting one too that I end up feeling sorry for.
What keeps you coming to St Canices?: When I take something on I commit myself to it. There's something different everyday.
As told October 2012