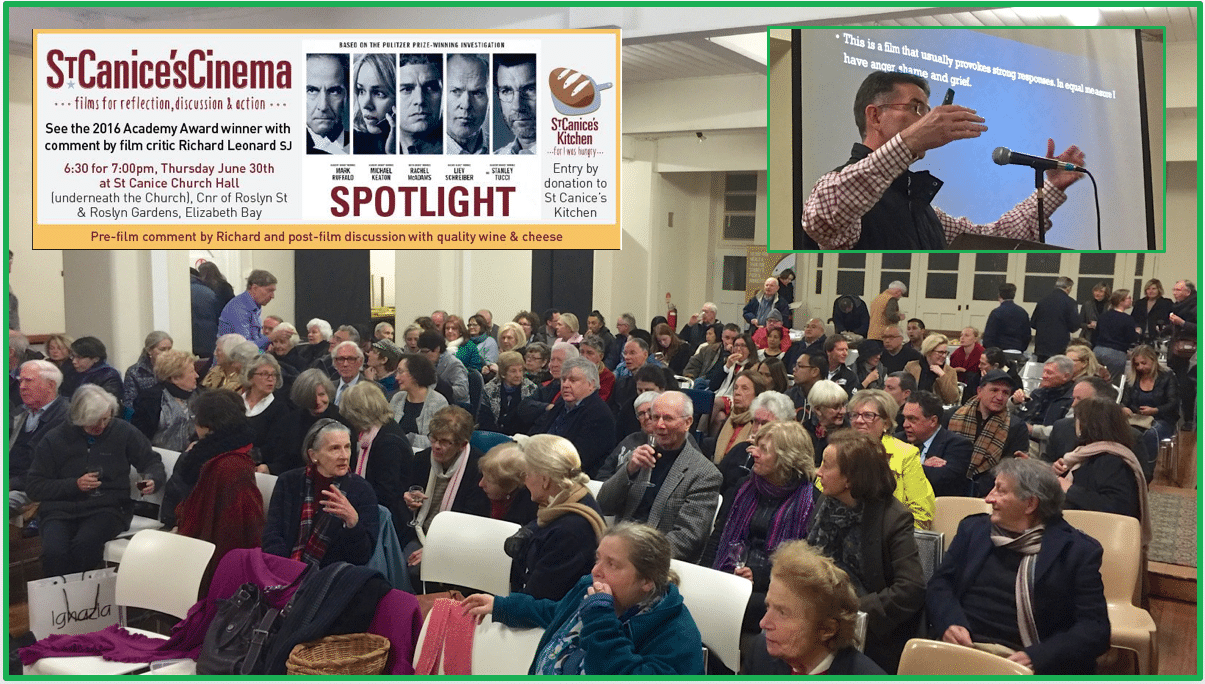 Responding to the Abuse scandal with a balanced Faith
Last week, more than 100 people braved a very cold night to come along to see 'Spotlight', the first of the St Canice Cinema screenings. In introducing the film, Fr Richard Leonard SJ said, "This is a film that usually provokes strong responses. In equal measure I have anger shame and grief".
In discussions after the screening, Fr Richard spoke about the 'transparency' we can expect to witness in the Church as we move slowly past the abuse scandals in the Church. Many in the audience were also very vocal about the ongoing damage wreaked on the Church, and with subsequent 'disconnect' of so many of our younger generation.
In our lifetimes, we've been caught in a cultural crisis between Church and a changing society. In a sense, the Church has been the touchstone or lightning rod because it is an abiding institution, and where attention on the evils of child sexual abuse has been focused. In reality, the problem of sexual abuse is wider and deeper in our society. The Australian Royal Commission has already begun to point for instance toward other of our most respected institutions in this regard.
Pope Francis has highlighted the urgent need for healing, and calls our Catholic Church to repentance and tighter professional standards. This will happen.
While we all suffer this anger, shame and grief, it's important to maintain a confident dignity and respond humbly yet truthfully to criticisms when this subject is raised in our social circles. We must not lose perspective on the entire context of religious contributions to society as a whole.
In this regard, here are a few facts worth considering:
The Good about the Catholic Church
that we rarely tell anyone
The Catholic Church is the largest non-Government employer in Australia: at least 131, 000, of which 98,500 are women (75%).
721,000 school children are in the Catholic sector
1,710 schools with 82,000 staff employed
There are at least 3,200 volunteer catechists
The Australian Catholic University ACU is fastest growing, truly national university, an increase of 42% in the last three with 22,932 students.
Notre Dame Australia won the Kullari NAIDOC Award for the most successful University in indigenous graduations for the last three years.
66 hospitals – 9,500 beds (12% of all hospital beds)
23,200 residential aged care beds
5,393 retirement and independent living units and serviced apartments, 8 dedicated hospices with palliative care services
20% of all medical research is done the St Vincent's or Mercy Healthcare Research Institutes
Largest welfare provider outside Government with 63 member organisations; 12, 600 employees; 500 different services; 1.1 million clients were cared for in 2015
The St Vincent de Paul Society is the largest and most extensive volunteer welfare network in the country with 18,209 members and 30,910 volunteers.