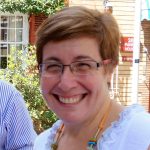 Name: Margaret Spencer
Born: Brisbane Queensland 1961. I am one of nine children – I am number 5. I am blessed to still have my mum and dad though my father is very ill and dying.
We were a typical big catholic family but not really into parish life growing up. I was educated by the Good Samaritan's in Primary School and the Sister of Charity for High School. Left school and did my nursing training at Holy Spirit Hospital in Brisbane. Following registration, I worked at St. Vincent's Hospital in Melbourne before going to work with Mother Theresa's sisters in Calcutta. I joined Our Lady's Nurses for the Poor (Brown Nurses) in 1983 and moved to Sydney. I have worked round the streets of the Cross and in the inner city of Sydney providing in home support and health care to individuals and families on the margins since then.
Lives: Snapshot of daily life: When all is going to plan my day begins with a gym session at Anytime Fitness followed by 7 am Mass. Once physically and spiritually in tune, I look for good coffee (regularly at Ulivetto's) and then I head off to work (whenever possible on my much loved bike).
I currently work at community legal centre in Redfern. The Centre provides legal and non-legal advocacy to people with intellectual disability. I work with adults with intellectual disability who are parents and by virtue of their disability and circumstances have come to the notice of Child Protection Authorities. My days involve supporting very scared parents fearful of losing their children into care and grief stricken parents who have lost custody of their children. One day a week I sit on the NSW Guardianship tribunal hearing matters to do with adult guardianship.
On Weekends you will see me around the traps usually with a few little kids in tow. In the early 1990s Sr Pauline and I were emergency foster carers for three little girls. We remained in contact with these girls providing weekend respite. Those little girls are now mums themselves. Pauline and I are actively involved in supporting our eldest foster daughter who has twin nine year olds.
Part of Canices since: I have been involved at St. Canice since the early 1990s during Fr. Kevin Fitzpatrick's era. Fr. Kevin asked Sr Pauline Fogarty and I to help make Canice's Kitchen a place that would welcome street people. Pauline and I ran a clinic at the kitchen every Saturday morning. We provided the wherewithal for street people to have showers, get a change of clothes and have a haircut or shave or a dressing done. We routinely finished our working day on a Saturday by attending the 6 pm mass. In 1994 Sr Pauline Fogarty and I formed a community with Sr. Noelene White RGS at 25 Roslyn Street – up the road form St Canice. This community has opened its doors through hospitality to form a wider community with the Jesuits and other religious in the parish.
In 2007 changes in Brown Nurses Ministry resulted in me making the momentous decision, after 27 years to take leave from the congregation. My religious community as has the parish community of St Canice's have been a great support during this period. I now live in Merton – the flats attached to the Parish.
Where will we find you in the Parish? You'll usually find me at morning mass during the week and am a bit of a mass hopper on the weekend depending on my schedule. My preference is the Sunday 10:30 am liturgy – I love the music and catching up with folk afterwards.
What keeps you coming to St Canices? The eclectic (if not eccentric) nature of the parish community! It is a parish that lives the Gospel in a characteristically authentic, messy, organic and unassuming way. For me it is a parish where differences exist but tolerance and dialogue retained helped I believe by a critical mass of parishioners/ stalwarts who are wise enough (and good/wickedly humoured enough) not to sweat the small stuff but who hang because of what matters.