Name: Michael Musgrave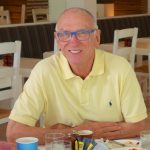 Born: Brisbane 1942
Lives: Elizabeth Bay – retired after spending twenty years working in USA, Asia and Europe
Snapshot of daily life: regular exercise regimen keeps me somewhat flexible. Photography, travel and blogging continue to keep me involved with what I've enjoyed doing all my life. A little less tolerant entering my 70's.
Part of Canices since: 1994 when I returned home from London.
Where will we find you in the Parish? I'm one of those 10.30 am Sunday Mass-goers, who always sits on the same side of the church; a member of the Parish Council who enjoys having the opportunity to contribute to building a richer parish life for all.
What keeps you coming to St Canices? The opportunity to live my faith guided by Ignatian principles; the great sense of welcome and friendship that I feel from other parishioners; and a feeling that I am part of a parish that truly 'lives the teachings of the gospels'.