NOURISH (AUTUMN) TALKS AT ST CANICE'S
Australia's prince of soil Costa Georgiadis, compered the Nourish (Autumn) at St Canice's on Thursday evening.
As well as heart and mind being nourished with music, speakers and rich conversation, appetites were well looked after too. Think banana blossom, cabbage and pomelo salad, with roasted cashews and chili jam paired with Young Henrys Cloudy Cider. Think clever cocktails made from locally-foraged produce, mixed by the spectacular folks at Trolley'd. Think Gelato Messina. Think Krinklewood Wines.
150 guests enjoyed three courses crafted by Ty Bellingham of Bright Hospitality, the social enterprise where industry champions change, providing the opportunity for refugees and migrants to fundamentally change their own lives. Proceeds from the evening go to Cana Farms, who supply home-grown produce for IOOSK, our Inside Out Organic Soup Kitchen on Wednesday nights.
It was also a fantastic re-union opportunity for the ex-Sailors Thai team, Ty Bellingham and Fiat Malaniyom from Sunrise Asian Produce, to come together for a such great cause with The Nourish Talks Team (Tilly Hinton).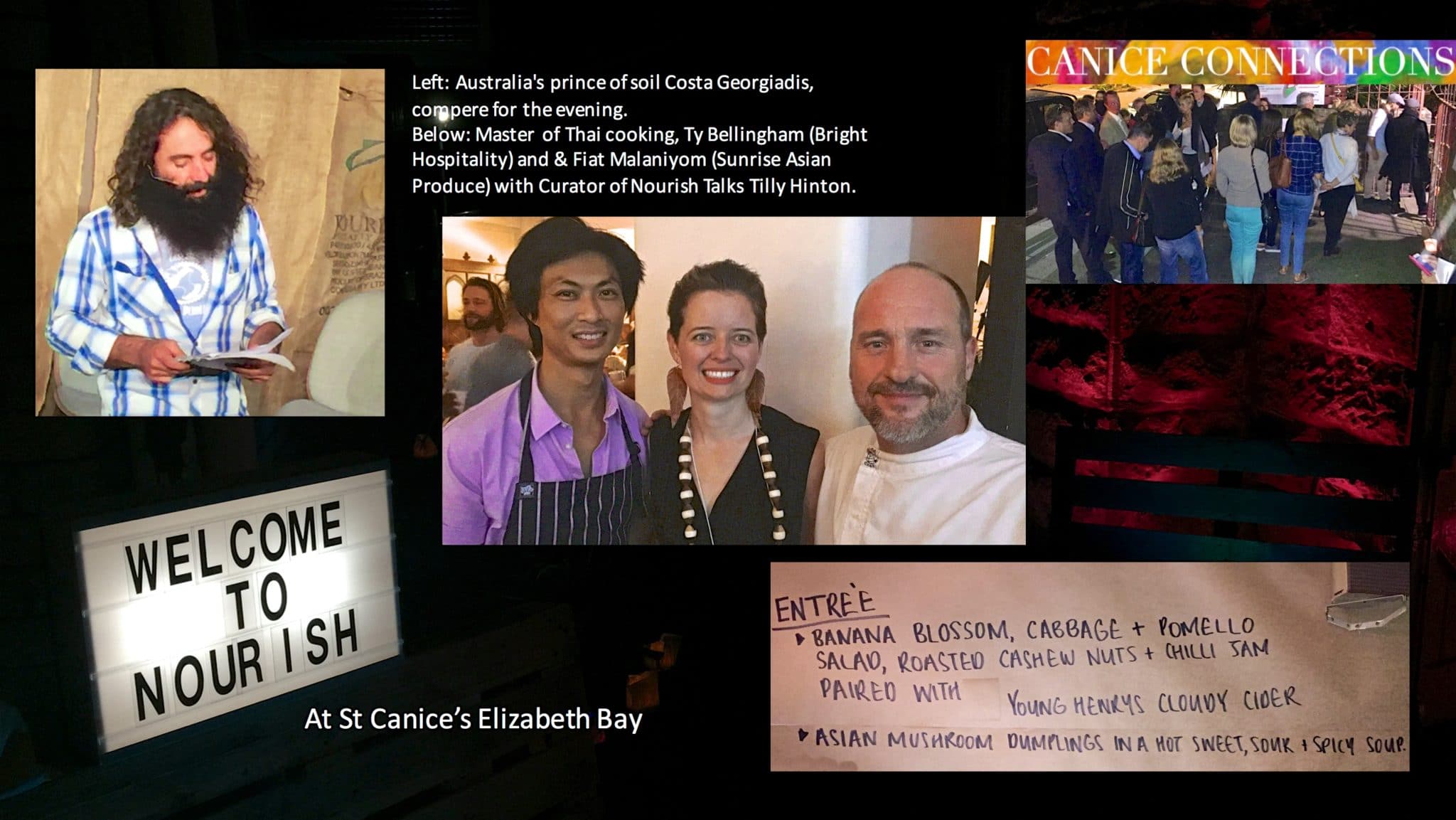 A Message from Inside Out Organic Soup Kitchen (IOOSK) and
St Canice's Rooftop Kitchen Garden:
Dear Nourish friends,
Just announced: Nourish (Autumn) will feature renowned Australian vocalist, Darren Percival, award-winning landscape architect Nicola Cameron (Pepo), acclaimed brewer Agi Gajic (Young Henry's) and beloved yoga and meditation teacher Stella Chambers alongside already announced Costa Georgiadis and Ty Bellingham. Grab your tickets now while they last!
 
Nourish (Autumn) on April 14 celebrates soil. We walk on it every day. Almost everything we eat comes from it. Healthy soil assures the future of our planet and damaged soil is one of the biggest dangers we face. We can make soil in backyards and balconies by composting, and on big scales by supporting farmers who grow our food in sustainable ways. Soil is our planet's great unsung hero.
Nourish in April changes that. We're celebrating all things soil in a show called The Ground Beneath. Costa Georgiadis – host of Gardening Australia and fresh from a run at the Sydney Opera House starring in a musical about dirt – will be in conversation with leading thinkers about what lies beneath our feet. Acclaimed Sydney chef Ty Bellingham and a team of refugees and migrants from Bright Hospitality will serve stellar Thai food, featuring community garden sourced ingredients from across Sydney. Your thirst will be quenched with the best drinks from Young Henrys and Krinklewood Wines. You'll be surrounded by the artisan stylings of Davenport Campbell.
Superb stories. Stellar food from local and garden-grown ingredients. Heartfelt music. Friendships new and old. Nourish Talks are meaningful events about nature, lifestyle, wellbeing, and community, designed to uplift in a world that can seem heavy at times. The talks get at tough issues, in gentle and uplifting ways, to make change feel like an exciting opportunity, not an impossible burden.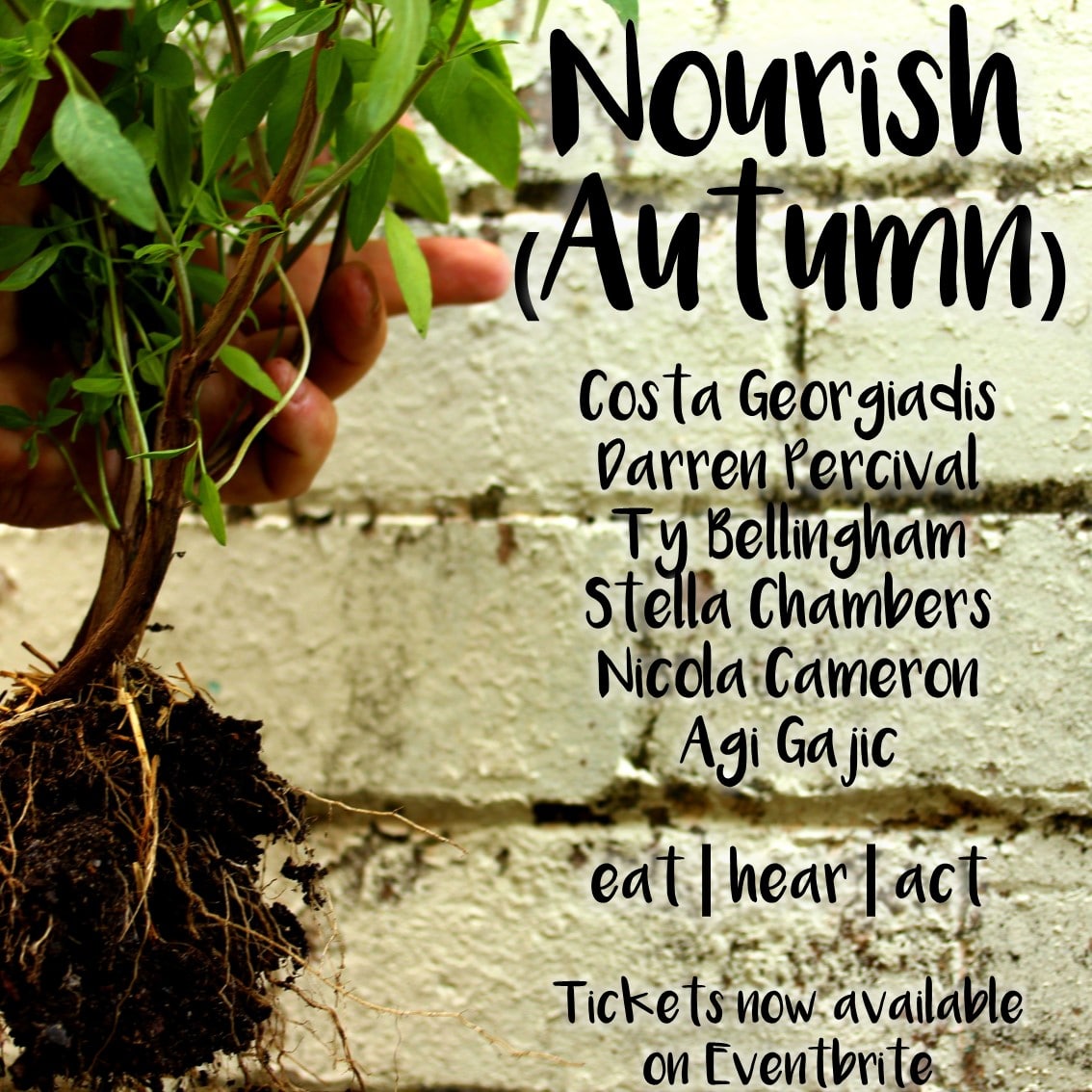 Nourish is part of a family of social outreach projects in Sydney's gritty Kings Cross that includes a rooftop kitchen garden, the Inside Out Organic Soup Kitchen, TwoGood, GROW horticultural therapy and the Young Mums Cooking Program.
Your attendance will fund a new composting program to transform mountains of vegetable waste from Canice's Kitchen, Two Good and the Inside Out Organic Soup Kitchen into rich nourishing compost, rather than landfill. You buying a ticket to Nourish Talks directly contributes funds to people who need it most. You'll be helping enrich the lives of refugees and asylum seekers, young mums, people experiencing mental health issues, those sleeping rough, and anyone who might benefit from some soil on their hands or some food in their bellies.
WHEN
Nourish (Autumn) is on Thursday April 14, from 6:30 – 10:00 pm – at St Canice's in Kings Cross. This is a ticketed event, open to all ages.
WHERE
St. Canice Catholic Church – 24 Roslyn Street Elizabeth Bay, Sydney, NSW 2011
  
GET TICKETS
Come to Nourish!
We hope to see you on our guest list soon.